Oh Eru, we have just been attacked by Saruman's Uruk-hai! Of course, this is no surprise to me but tragedy has struck once more, my elleths. I know not what to say about the pain in my fragile elven heart so I suppose I must back up a bit.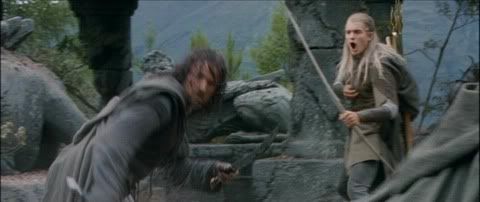 "I told you so!"
I could not help shouting at Aragorn. Dunedain Ranger my pasty elvish arse!
Why does no one ever listen to Legolas? ::sigh::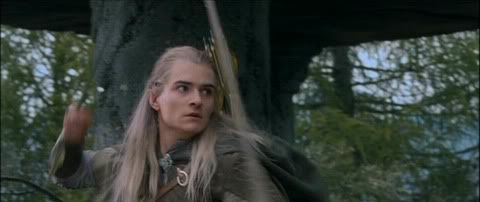 I made sure to get plenty of photographs of the battle, however, as the warrior stuff always gets me major pull.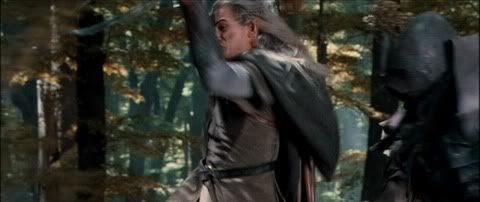 Unfortunately the fell beasts smell so rancid that I think my elfhood has forever shriveled so my immeasurable sex appeal does me little good in these situations. Alas, I fear I will be doomed to an immortal lifetime of celibacy by the end of this journey!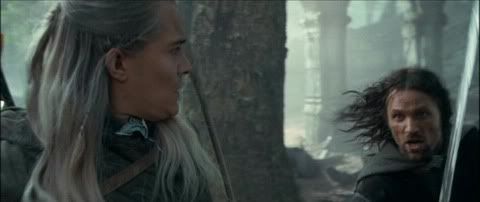 It amazes me how quickly Aragorn can transform himself from a drugged out hippie to a would-be hero. He was all, "I must save Boromir, son of Gondor!"
Am I the only one that notices that Aragorn only brings in the Gondor act in situations where it is neccessary for dramatic effect?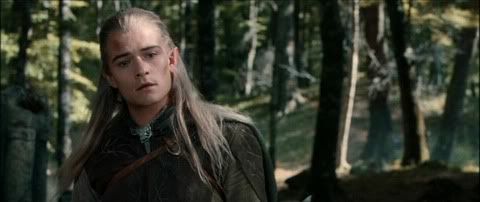 I raced after Aragorn but alas, I was too late. Boromir was struck down, gasping his dying breath as I watched in horror. I was not even given an opportunity to say goodbye or to apologize for the terrible things I did and said about him because once again, Aragorn felt the need to play the hero and would not let me draw near.
I hate Aragorn.
Boromir is dead, the hobbits are gone, all hope is lost. The Fellowship, such as it was, is broken.
It is all Aragorn's fault and I am too depressed to write more at this time. Forgive me.
~Legolas~